How Doordash Uses Driver Ratings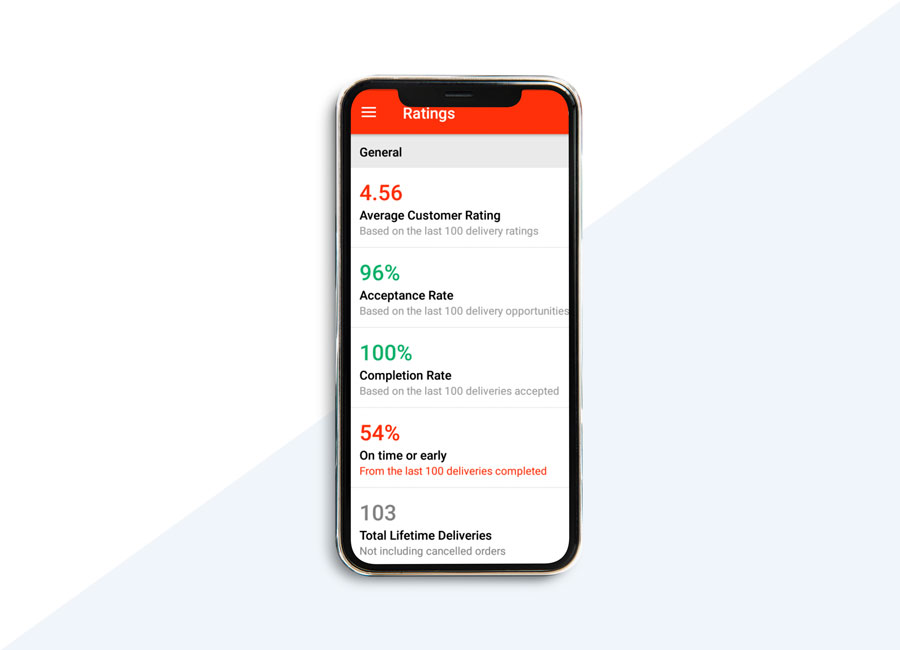 The new Postmates rating system is really welcomed by all Postmates drivers. To really understand how Postmates is a 'driver friendly company', we want to take a few minute to explain how rating system works for another delivery company. Doordash calculates your driver rating  as the average of the ratings you've received for your last 100 rides. The algorithm of the Doordash rating system is a combination of the following elements:
Customer Rating
Acceptance Rate
Completion Rate
On time or early
Customer Rating
Doordash customers are able to rate their delivery person and the restaurant. The Doorsah Customer Rating is measured on a five-point scale (with 1 being "very dissatisfied" and 5 representing "very satisfied).
Acceptance Rate
If you read our Postmates Fleet App Guide , you already know that in order to optimize your earnings when you are online and working for Postmates, you can set up Postmates Fleet App and auto-accept orders. Doordash keeps statistics on your acceptance. DoorDash notes that an extremely low Acceptance Rate may be an indicator of fraud. It's written in the terms/contract you sign when you become a Dasher. You can be deactivated for lack of acceptance.
Complete Rate
When it comes to deliveries a completion rate refers to the number of completed deliveries divided by the number of deliveries accepted. Both the Postmates Fleet App and the Dasher App give drivers the option to cancel an accepted order. This practice is not much appreciated neither by Postmates nor by Doordash because it causes poor experience for both customers and the company. Remember that to avoid a bad experience or a bad rate in the case of Doordash, you have to use this feature only if you absolutely need to. Postmates and Doordash drivers are contractors. You can go offline whenever you want.
On time or early Rate
Doordash has a 'on time requirements' based on Google Maps' estimate. A lot of drivers stress about this for justified reasons:
The merchant can make you late
You can be stuck in traffic
Working for Doordash and having a rating below 4.7 it is a problem. You're at serious risk of deactivation. The good news is it's not hard to improve a rating if you're doing everything right. Your rating is based off your last 100 rated deliveries. If you give good service and make a lot of deliveries, you can ignore the occasional bad rating in 1-2 weeks because it will cycle out.
Doordash drivers: do not stress, do your best, safety comes first! and sign up for Postmates.