Postmates and Uber Eats Signs Guide: Everything you Need to Know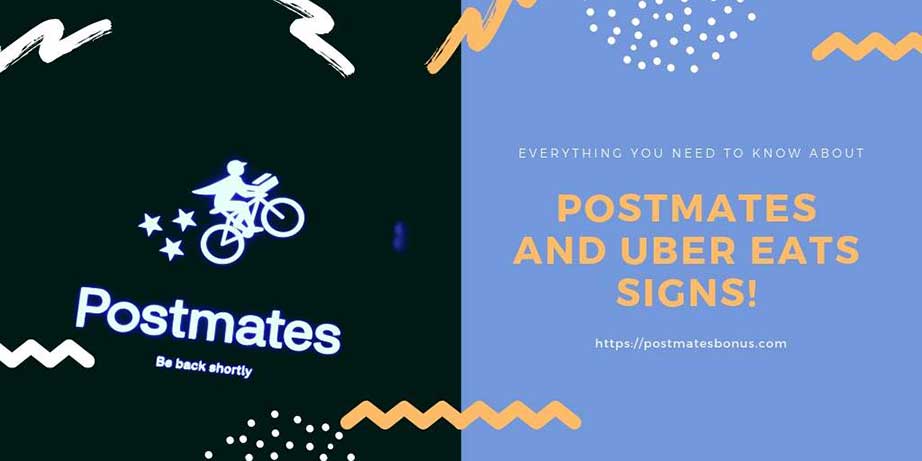 If you are reading this article you have probably already signed up for Postmates , downloaded the Postmates Fleet App and you are on the road making deliveries for Postmates. You already know all the advantages of working for Postmates. Working for Postmates or Uber Eats is a great opportunity to make money setting your own hours, with Postmates you do not need to schedule your working hours in shifts. You are your own boss and take advantage of it. If you are a Postmate or Uber Eats Partner walker or biker, lucky you, not only because I like walking, but also because you don't have to face one of the biggest dilemmas of a delivery driver: find a parking space .
Parking in the city can be a tricky thing with the number of rules and regulations in place. On top of that, no one wants to get a parking ticket. You are working for money and not for paying ticket.
Of course you need to make sure that you follow applicable laws. When you are online working for Postmates, you need to offer a excellent service to Postmates customers. Postmates is a driver friendly company. Do not stress yourself and take your time if you need to find a Parking. Postmates recently changed the driver rating system. The new ratings is designed to protect drivers from users complaints that have nothing to do with their performance. Postmates ratings system is really easy. Postmates drivers, unlike Doordash drivers do not have an 'On Time Ratings'.
How to cope with the problem of the parking?
I've personally found that put up Signs can be a useful tip to avoid a ticket. In this article I will introduce you the different types of Postmates and Uber Eats signs. I will make an accurate review of the rules delivery drivers need to follow.
Before you continue read this text, first it is important for you to know that Postmates and Uber Eats unlike Doordash allow bike deliveries in many cities. With Postmates you can change your vehicle types any time you want. Take a look at our guide Postmates Vehicle Requirements