What is Postmates Fleet App?
Postmates is not only a food delivery app but a technology platform leader in on-demand delivery services. Like Lyft or Uber, Postmates also has two apps:
Postmates App : for consumers (connects individual consumers to hundreds of marchants in their local market.)
Postmates Fleet App: It is the app for postmates driver/courier
The app is your main work tool. Thanks to the driver app you can receive orders, deliver food, drinks, retail and earn money.
⚠️ NOTE: The Postmates driver App is a Green icon with the white Postmates logo while the Users App is a black icon!
Postmates Fleet App Download
Postmates fleet App is available for Iphone and Android. Owning one of these two types of smartphone is the only prerequisite to be Postmate courier, in addition to being 18 years of age. You can check out our complete guide to requirements for Postmates.
Postmates Fleet App IOS
How to download the App on iPhone IOS
There is a good news for you. The driver app is available on the Apple store. You can forget the old and difficult process to download it via device management when you were prompted to tap trust...
Here is a step by step tutorial on how to download Postmates fleet app for IOS. This is a tutorial with images to make things easier.
Unlock your device and go to the App Store. After you have opened the App Store, look for the search functionality. There you can type 'Postmates Fleet App'. While typing, some suggestions will appear. You can also use our Download Link for IOS.
After you have found the Fleet App, you can tap the 'get' and 'install' buttons in order to get and install it. Before it starts to download, you might first have to sign in to the iTunes store with your Apple ID for verification. After this verification, the app will start to install. This may take a while, please be patient.
When the app is installed to your device, you can open it.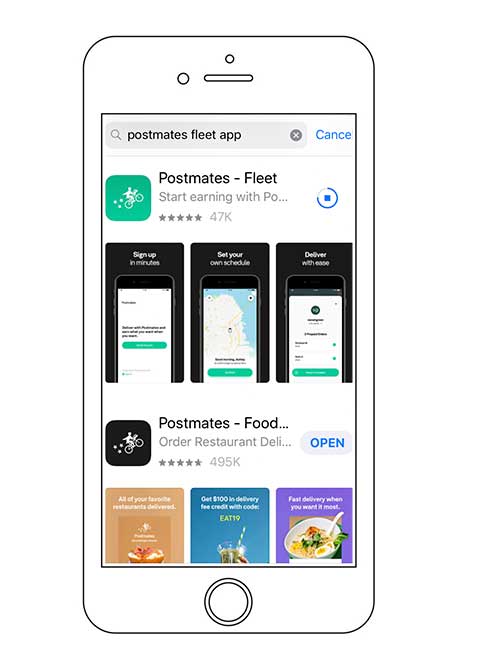 What is the Postmates Driver Card?
Before you can start delivering, you'll need to link your Postmates credit card to your driver account. Once you apply to become a driver, Postmates will send you the delivery bag and prepaid card to your home in a welcoming kit.
People have a lot of curiosities about the card. If you are curious too and want to learn how to activate your Postmates prepaid card.
You will find an easy tutorial on how to find the card identifier number. In addition you will find answers to common questions like:
How does Postmates prepaid card work?
Can I do Postmates without the Prepaid Card?
Can I use my Postmates card for myself?
Can i use my Postmates card for gas?
Postmates Fleet App Review
To quote Steve Jobs, "Design is not just what it looks like and feels like. Design is how it works."
Postmates App developer worked well because the Postmates Fleet App is really simple to use.
How to use Postmates Fleet App?
After you have been approved and you have downloaded Postmates fleet app you can Go Online start working and earning money. Ladies and gentlemen, Mesdames et Messieurs, Signore e Signori.... we are pleased to introduce you to Postmates Fleet App.
How to change your vehicle type in Postmates Fleet app
We will never tire of saying this, this is one of the great advantages of working for Postmates. Postmates vehicle requirements are minimal. You can change the choice of your vehicle at any time you want. Here's how:
Tap on your picture (top left of your screen)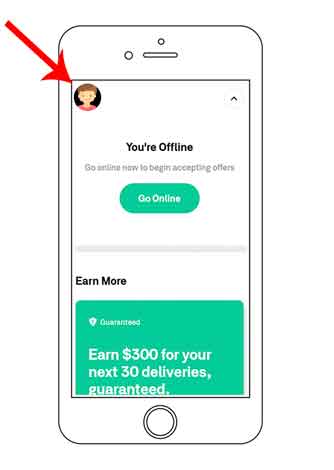 Tap on the vehicles menu (Second Menu)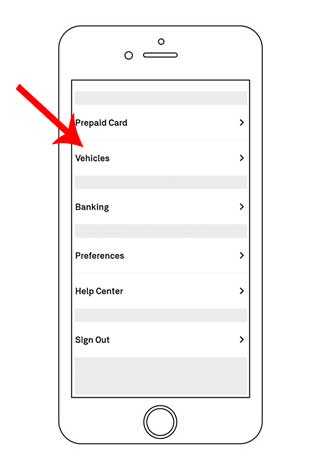 At any moment: change or choose your vehicle's type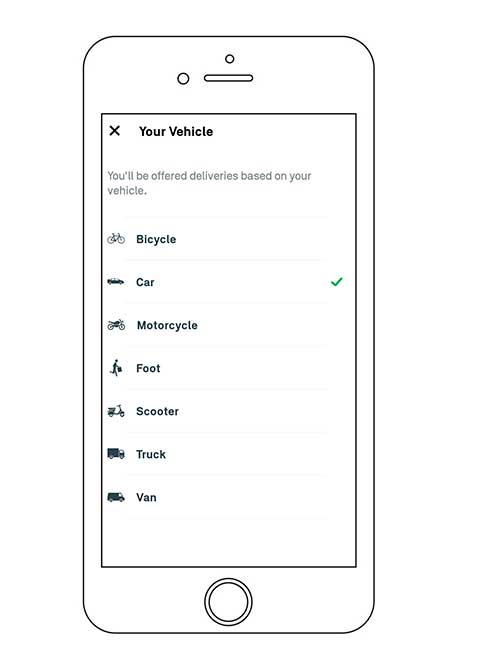 How to set up Postmates Fleet app to maximize your earnings
There are a lot of advantages to becoming a Postmates courier. It is free to sign up and fast to get started. Unlike UberEats drivers, there are no fees or time commitments and you bring home 100% of your earnings, including tips.
However, if you are interested in boosting your Postmates income, you can have a look at our guide how to earn more delivering for Postmates. There are some small things you can do to maximize your earnings. One of these is to set up your Postmates Fleet App. Auto Accept order will help you improve your profits.
Postmates HotSpots

Postmates hot spots is a new map feature that empowers you to drive smarter by showing delivery demand in real time. And high demand areas increase your chances of getting delivery requests — and earning more.
Figuring out where to drive is the most important tip to maximize your Postmates earnings. What are the Postmates HotSpots? How do you learn what spots in the city are likely to increase your chances to maximize your earnings? Take a look at our guide to Postmates Hotspots .
Even before to go online, you can find the hotSpots in the App.
Open the App
The Hotspots are displayed on the Google Maps home screen of the Postmates Fleet app like Red Pixel areas.
If you're online delivering for Postmates, you have an immediate issue and you need help, you can use the Postmates Driver App's 'Support' tab to see options for contacting Postmates. Be sure you've got the most updated Postmates Fleet App version.
If you have an issue contact Postmates support during a delivery is easy. The "Support" button is always there in all the steps of your delivery. Just follow these instructions:
Tap the "Support" button
Select the issue you're having.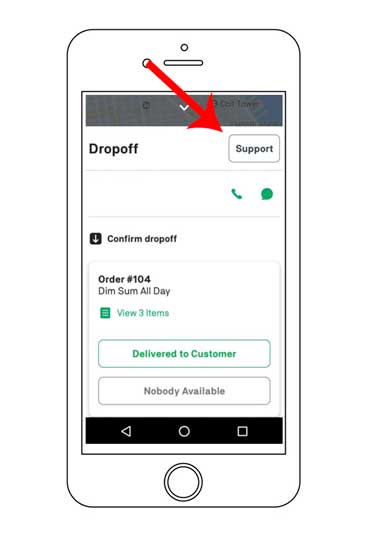 Do you have issues with Postmates fleet App?
The Fleet App is Not Working
If you are having problems installing or using the App this is usually caused by a problem with your Internet connection or your phone's settings. It might not be necessary to delete and reinstall Postmates Fleet App. Before downloading the app, make sure your mobile device is up-to-date, that you have memory on your device and a data or wifi connection. After the installation, do not ignore updates, which correct a type of security flaw. If Postmates Fleet App stops responding, follow these steps to get help.
Force Quit the App

Restart Your Device

. Then open the app to see if it works as expected.

Check for Updates

Delete and Reinstall the App

Contact the Postmates App Developers

. take a look at our guide to contact Postmates.
Last words
Postmates app is really easy to use and set up to maximize your earnings. Fell free to contact Postmates support any issues. With this guide, however, I believe that you will be ready to go. We have lots of guides available for you to look at whether you are a Postmates driver, or Postmates user. We recommend: Postmates driver beginners guide and Postmates App Guide. Keep reading!
P.S. Stay in touch with us via our Twitter, Facebook, Linkedin pages and if you think we've been helpful, do not hesitate to support us... put a like or share our page 😉