How much do Postmates drivers make?
Now that you know everything about the application process to become a Postmate, I'm sure you wonder how much a Postmate courier earns. Working for Postmates is a unique opportunity to make money with our promo code, and now I will try to answer to all your questions as clearly as possible. After signing up for Postmates you will work as an independent contractor. You can choose to work part time, full time and your pay will be related to the number of deliveries you will make. Find below a list of the main components of your pay.
Postmates Sign-up bonus
Postmates is looking to add as many new drivers as they can and they've increased the new driver sign up bonus. Don't miss the opportunity to get the new Bonus Driver Up to $1000 *. It's one more reason to start driving for Postmates!
Postmates Pay • How much does a Postmates Driver Can Really Make?
Depending on the city, you can make up to $1,500/week as a Postmates courier/driver. Here are some details of a Postmates driver's pay:
Postmates as well as Doordash or Uber Eats do not give a salary to their drivers. It's not even an hourly pay. Postmates drivers are paid for delivery. Here's how Postmates driver fare is calculated:

Pickup
Dropoff
Wait Time
Distance

Postmates has increased the amount of money you can make in comparison to their competitors through batching orders. This allows couriers to increase volume of deliveries and therefore hourly earnings and number of tips. A Postmate completed 7 deliveries in 84 minutes thanks to batching. This resulted in an impressive $41/hour. Postmates drivers work without pressure because Postmates unlike Doordash do not rate drivers with a performance rating system.
Cash Out: Postmates App gives you the opportunity to Cash Out your available balance with instant pay if you need money. You do not need to wait for your weekly pay.
Postmates starts the weekly payment process on Monday. It may take 2-3 business days before your deposit shows in your account.
Postmates Incentives
Postmates Guarantee Pay
Postmates recently began an incentive program that guarantees you will make a specified amount of money.
Example - Complete 30 deliveries and earn $500. If you earn less than $500 on those 30 deliveries, Postmates will pay the difference.
Postmates Driver Incentives
You can maximize your earnings if you take advantage of the driver incentives available from the Postmates App. Postmates offers a variety of bonuses. You will be notified of any incentives through email, SMS, and the Newsroom in the Fleet app. Postmates runs promotions for drivers that allow them to earn extra cash, like completing multiple orders in a certain time-frame or making deliveries during certain hours of the day.
Here for you an example of Postmates extra bonus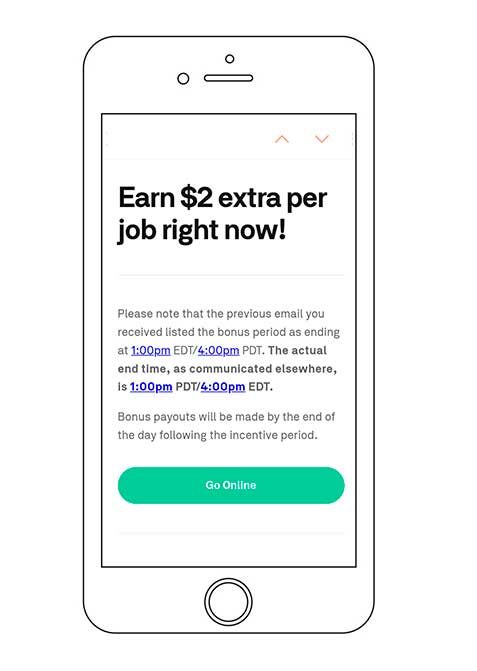 Postmates Tips
You always get 100% of gratuity!
Postmates Tips in App
Did you Know that Postmates has an In-App Tipping Option? The app calculates a recommended 20% tip based on the total price—which includes your order subtotal, an operational service fee, and a delivery fee. However, users are free to tip any amount they choose.
Postmates Pay Model • How is the pay for each delivery calculated?
Postmates pays per delivery
Delivery offers in the Postmates app may contain multiple pickup and drop off locations. The earnings for each delivery includes:
An amount for each completed pick up
An amount for each completed drop off
A per minute waited rate for time you spend at the pickup location
A per mile rate for the distance between the pickup & drop-off locations
Any blitz bonuses that are shown when you accept a delivery offer
The rate may be different from city to city, check your Postmates market
Postmates Instant Pay
Postmates is one of the few companies in the U.S. which allows workers to be paid daily instead of on a more traditional weekly, biweekly or monthly. If you need to get something to eat, or get gas or pay a bill, you don't have to wait for it. With Postmates Instant Pay Deposit, your earnings are right there on your card and it's a big help. If you want to learn more you can read our complete guide on Postmates Instant Pay