How do Postmates and Grubhub Work?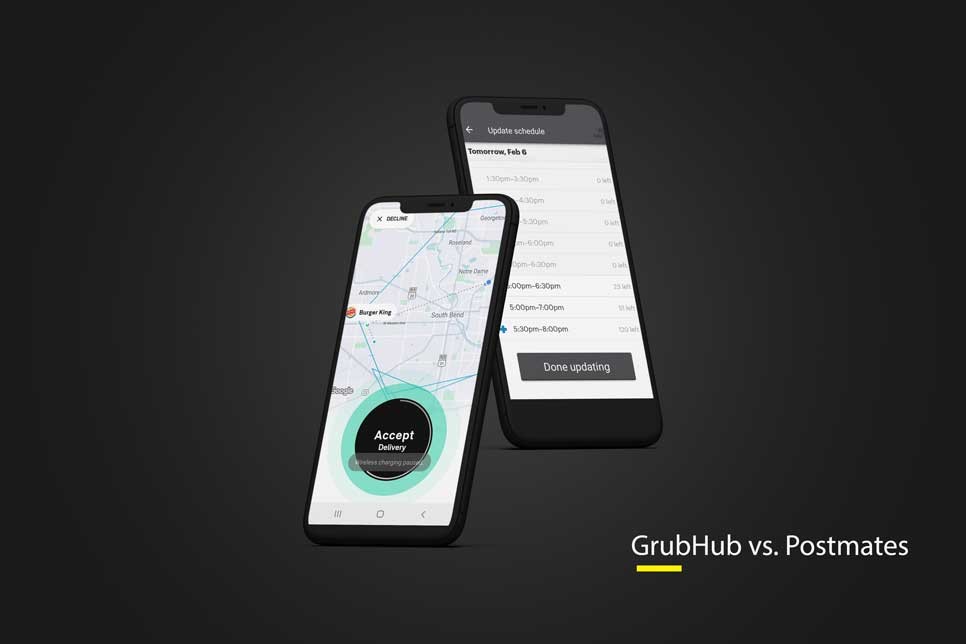 Both Postmates app and Grubhub app work similarly for independent contractors who want to make extra cash by taking advantage of the fast-growing popularity of on-demand delivery apps. Which is better Postmates or Grubhub? The choice of becoming a GrubHub or Postmates driver can seem hardest. Both offer a lot of advantages, you can work part-time, full-time or when it is more convenient to you. They may seem basically the same other than brand.
However, a closer look shows that there are some key differences. Here we will understand how both the apps work for drivers.
Postmates
When you sign into the Postmates service app and receive the first delivery order, you will drive to the store or restaurant to pick up the order on time. Since the app facilitates ordering anything from anywhere, it uses a map to pick the nearest delivery person. This helps meet the delivery deadline and offer exceptional quality customer service.
As a Postmates driver, you will receive a prepaid credit card that allows you to make every purchase that comes as a customer order. All payments including delivery fees will be paid to the vendor through the Postmates credit card. Once you purchase the goods, you have to drive to the customer by following the heat map and deliver them to the customer.
Since Postmates guarantees its customers delivering anything, anywhere and anytime, it is important for the drivers to operate at any given time. If you want to know how to schedule a Postmates delivery, just know that the app does not have any option for drivers to schedule their shifts and you might have to drive any day or anytime of the day. So, if you are ready to work with flexible timings, Postmates may be an ideal choice for you. We suggest you consult our Postmates driver beginners guide
Grubhub
When you work as a driver with Grubhub, you can deliver at any time that your market is open without a scheduled block. However they really encourage you to schedule in blocks. You will receive priority pings and increase the numbers of delivery requests. But if you regularly drop blocks within 72 hours of your block start time, they may restrict your access to scheduling.
Here is how Grubhub works for drivers. Once you receive the delivery request, you have 90 seconds to accept or reject it. If you accept the job, you have to drive to the partner restaurant to pick up the specific order and purchase the food with your GrubHub driver Card.
It is an exclusive prepaid card that you will use to make payment for food at various restaurants. However, not every order you receive will require buying through the card. You only need to pay the orders that have a banner "Order, Pay, and Deliver" at the top of the offer.
Next, you have to pick up the order once the food is prepared and drive to the customer's precise location to drop off. It is a breeze working withGrubHub, but the working hours are less flexible than Postmates. The hours of work will vary depending on one city to another, but drivers do not have the choice to work 24/7.
Summarizing, there are two unique forms available to drivers. Firstly, you can schedule yourself by signing into the app and choosing your preferred day, start and end time. An advantage of scheduling your dash shift is you will have a guaranteed spot in the chosen time slot, irrespective of the number of drivers available at that time.
Another option available to drivers is to make yourself "Available". It is as simple as opening the application at any time of the day and starting to take offers. However, a limitation is that you might not be able to drive at any specific time. This is a feature of GrubHub and Dasher app that limits the number of drivers at any particular time.
While this may otherwise be an advantage, an inconvenience is that if you choose do not schedule yourself in blocks, it will limit you to drive in your preferred area at any desired time.
Winner: With flexible scheduling options and convenient working hours, Postmates is a clear winner in this segment. Delivering food for Grubhub you have to follow a strict system of blocks and levels. Finally, scheduling your preferred working hours is difficult with GrubHub.