How Much Does Postmates Cost?
The first important point is to understand how much will your delivery with Postmates cost. If you're thinking about using Postmates, you can take a look at the app or at the Postmates website. If you are new to the Postmates platform, do not forget to use our promo code to get a discount. Postmates has up-front pricing inside the app, so if you set your order, you're now able to see how much your delivery will cost right away.
Postmates has very competitive fare. You can take a look at our comparison Postmates vs UberEats . In any case, your total price order will include:
The price of your food/goods
A delivery fee:

$0.99–$3.99 for partner merchants
$5.99–$9.99 for all other merchants

A service fee: It is a variable percentage-based fee applied to the purchase price of your items. The amount of Postmates service fees is around 12%.
A small cart fee of $1.99 if your order is under $12. For the city of Los Angeles, the minimum order is $10.
Postmates Tipping Review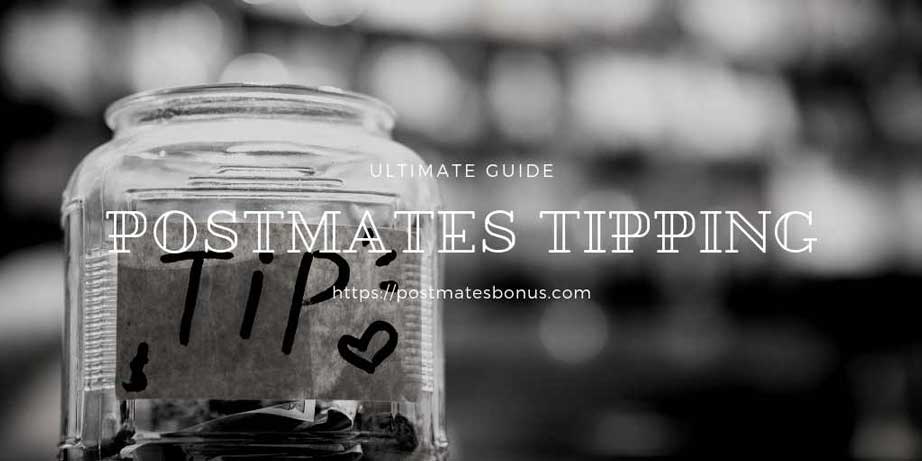 The big question is: Does the restaurant etiquette still apply when your food is brought to you by a Postmates, Uber Eats or Doordash driver? Should I leave a tip? Being a delivery driver, requires plenty of patience. Dealing with restaurants, customers, requests, and the dinner rush is worth it if at the end of the shift you bank in on tips.
Do You Tip Postmates
Postmates encourages you to tip the courier, but they do not include these in the delivery cost, and do not require Postmates users to tip. So, do you have to tip Postmates?
As a Postmates user, you are not obligated to offer your delivery driver gratuity. However, if you are happy for the service and decide you would like to tip, your 'Postmate' is welcome to accept.
Why should I tip the Postmates driver?
The etiquette says it, the good manners of knowing how to live, common sense and even a minimum of spirit of solidarity towards people who sometimes do very hard jobs. Do you know the day of a Postmates driver? Here are the 6 most important things you need to know about your Postmates driver.
Postmates drivers are independent contractors
Even if Postmates vehicle requirements are minimal. The majority of Postmates drivers use their own car.
Postmates does not pay for gasoline, tickets and car maintenance.
For Postmates drivers, tips are a source of income
Postmates couriers do not make an hourly minimum wage
How much do you have to tip your Postmates driver?
If you are trying to figure out how much to tip your Postmate, there is not a universal tip amount. This isn't surprising since tipping is a voluntary gesture of thanks. However, the tip tradition is deeply rooted in the United States and it is now a social expectations. A standard 15 percent rate is a good starting point in the U.S.
How do you tip on Postmates
Here is a complete list of all the Postmates tip options. Basically, there are three different options for a customer to give tips to the Postmates driver:
1.Cash
The first step of starting use Postmates services is to set up the payment method. If you are a Postmates App user, you already know that all transactions are 100% digital and you do not need cash to place an order with Postmates. Very similar to Uber and Lyft rider, Postmates customers pay online through the app that offers you the flexibility to pay your Postmates order with cards or Apple Pay.
The Postmates App is completely cashless but let you free to tip your Postmates driver with cash. From the viewpoint of the Postmates driver, cash is generally preferred. That is not just because a less scrupulous driver may skip reporting some cash tips as income.
2. Give Tips Through Postmates App When You Receive Your Order
This is the most common option. Postmates customers prefer to tip at the time of delivery. In this case, you can tip your Postmates driver at the time of the delivery through your Postmates App.
3. Give Tips Through Postmates App Next Time You Place an Order
The third option is a retroactive Postmates tip. In fact, Postmates App will allow you to retroactively add a tip to your Postmates order. If you didn't tip your driver at the time of the order, once you open the app, you will receive a pop up with the tipping options for your previous order. This is an important point to know, because you will not be able to place new orders until you do not take action on tipping or choose do not give tips on your Postmates App.