Ubereats vs Postmates : What's Cheaper Uber Eats or Postmates
Just one click is enough to compose your menu and choose from sandwiches, pizza, McDonalds, gourmet, exotic or vegan dishes. If you take a look at what is the cheapest food delivery app on reddit, you will see that people are looking for an app that provides good prices, discounts and good customer service.
The first step to understand what is the cheapest food delivery service is to understand how the fees work.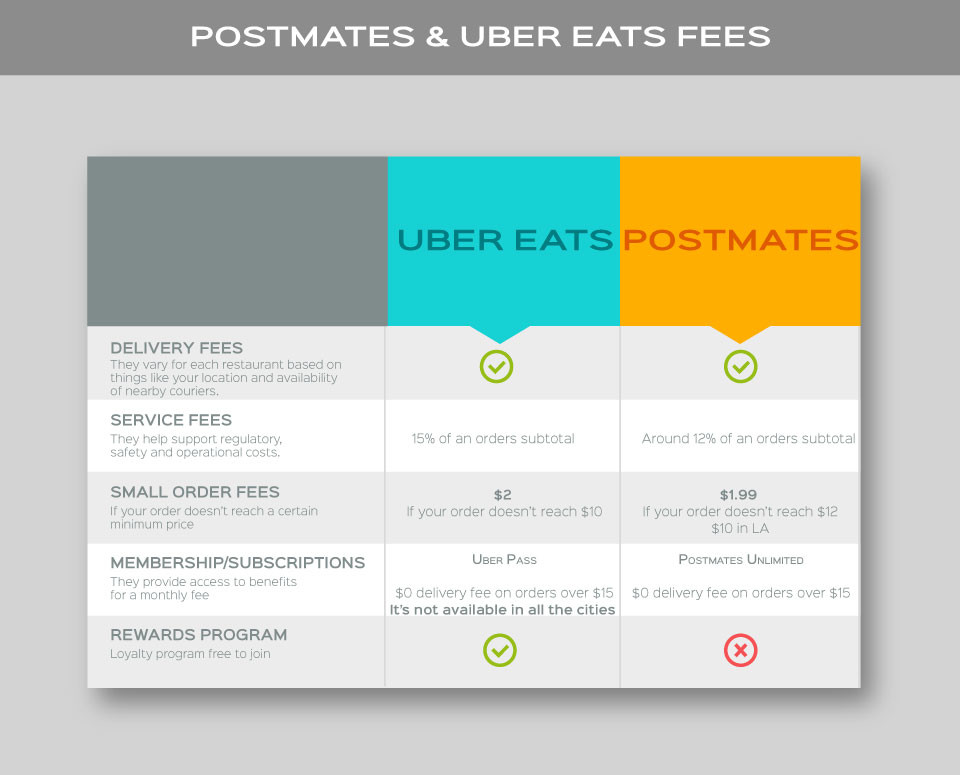 Let's start with Uber Eats. In March 2018 Uber Eats changed the way they calculate fees in every Uber Eats Order. Uber Eats issues two fees on a user's payment:
Delivery Fee: They vary for each restaurant based on things like your location and availability of nearby couriers.
Service Fee: equal 15% of an orders subtotal.
If your order total is less than $10, small order fees of $2 will apply to your cart.
Postmates fees include:
Delivery Fees:

$0.99–$3.99 for Partner Merchants
$5.99–$9.99 for all other merchants

Service Fee: It is a variable percentage-based fee applied to the purchase price of your items. The amount of Postmates service fees is around 12%
Similar to uber eats small fees, Postmates apply a small cart fee of $1.99. The minimum is $12. An exception is the city of Los Angeles where the minimum is $10. In LA the small fee will apply to your cart if your order is under $10.
There are some good news that every Postmates and Uber Eats users should know. First of all you'll always be able to verify and review your order on the checkout screen before requesting the delivery. Second, Postmates and Uber Eats have developed a system that will help you save money.
Have you already taken a Uber Pool for example? You saw how convenient it is! With the two apps, you can share a courier with a nearby order from popular restaurants and get free delivery. If you want to read more, you can take a look at our complete guide to. Finally, are you a regular Postmates or Uber Eats user? You can sign up for a subscription plan that will allow you to save money.
Uber Pass Subsription
The UberEats Pass will give you $0 fee on order over $15.
Postmates Unlimited
Postmates Unlimited will grive you $0 delivery fee on your order over $15. A monthly subscription will cost $9.99 per month and a yearly subscription costs $95.88 per year. You can learn more in our guide to Postmates unlimited .
Uber Rewards Program
Uber rewards program is FREE. It is a loyalty program that will allow you to earn a point for every eligible dollar you spend on Uber rides and Uber Eats delivery.
Winner: Is Uber Eats or Postmates cheaper? The fees are pretty similar. The trick is to take advantage of all the promotions and free delivery promo.