Postmates Background Check F.A.Q.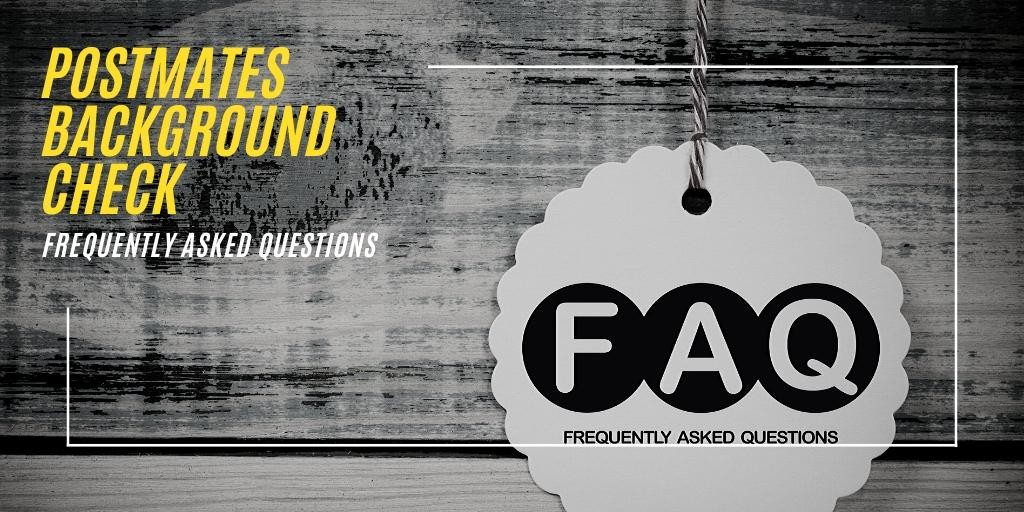 How can I check the status of my Postmates background check?
Postmates uses a third company called checkr to perform the screenings. To verify the status of your background check follow our step by step instructions:
go to checkr.com
Click on 'My Background Check' in the top right corner
Click on the button 'Get the status of my background check'
fill up the form with your information

Phone number
Email
Social Security Number
Date of Birth
How to Run a Personal Background Check on Yourself
You can check your personal driving records by going to the DMV website for each state that you ever held a driver's license. Each state has its own rules and regulations about driving records — some allow employers, schools... to check records as far back as 10 years, others only allow 3 years. This background check could cost.
Are background checks required by law?
No, but many companies do it because a background check helps companies stay safe by controlling criminal history.
Keep in mind in many cases Employers are not allowed to consider data older than 7 years while screening applicants
Does a Postmates background check include DUI?
Very similar to Lyft background check or the Uber screening process , even if you will not be a ridesharing driver, your report will include DUI.
Postmates Background Check Felony
Yes, couriers are screened for criminal offenses included felony
Postmates Background Check Taking a Long Time
Your Postmates Background check is still pending? Your background check takes too much time. Do you have a doubt or a question? Don't be shy, contact Postmates support.
NOTE: A lot of counties close their offices to prevent further spread of COVID-19 this makes the job of Checkr more difficult. Currently the process can take more than 2 weeks. Feel free to contact directly Checkr Support if you need more information.
Finally what you need to know is that if there's any way to speed up the background check process, there's something you can do to prevent your Background Check from taking longer:
When you sign up for Postmates fill out the forms properly.
Do not give a nickname or a shortened version of your name on Postmates application.
Postmates Background Check Failed
If your background check failed and if you think there was an error, contact Postmates as soon as possible. You can also choose to dispute the results.
If you know why you have been disqualified, you can try to clean up your records and apply again.
Can I clear my DUI Record?
If you were convicted of DUI, you can expunge from your record. After expungement, the record of your DUI is "erased" from the public record.
How can I pass Postmates background check if I have a DUI
We are not lawyers and we do not offer legal assistance, but there is always a solution. Our notice in this case is: apply for Postmates and choose to make deliveries with a bike or on foot.
Did you know you can remove points from your driving record?
The best thing to do is contact your local DMV or other motor vehicle agency and ask:
About eligibility requirements
For a list of approved driver improvement schools (if applicable).
How many points will be removed.
How long points remain on your driving record.
Postmates Background Check vs UberEats Background Check
The background check is the same for Postmates and Ubereats. Postmates and Ubereats use different companies to run the background check ... This explains why sometimes one result comes before the other.
How does Postmates ensure the safety of their customers?
For every delivery, customers and merchants will receive details about the Postmate, including photo identification and vehicle details ahead of receiving their delivery, so you know who to expect every time. Once a delivery is complete, the Postmate no longer has customer contact information and the delivery address isn't available to them any longer