Postmates APP Frequently Asked Questions (FAQ)
Can I Pay my Postmates Order with cash?
No, to place an order with Postmates app, you must first set up the payment method in the settings menu. Postmates app offers you the flexibility to choose between:
Is a Tip automatically Included in my Postmates Order?
No, tip is always a customer choice. Your card will only be charged with the cost of the goods you have ordered and of delivery fee if applicable.
How Does Tip work with Postmates?
After your order has been delivered, you will receive a notification in the Postmates app asking you to rate the Postmates driver. You have the possibility, if you want, to leave a tip for the driver. As we said, Tip is not mandatory. Postmates app calculates 10%, 15% or 20% or the orther. You can also enter your desired tip amount.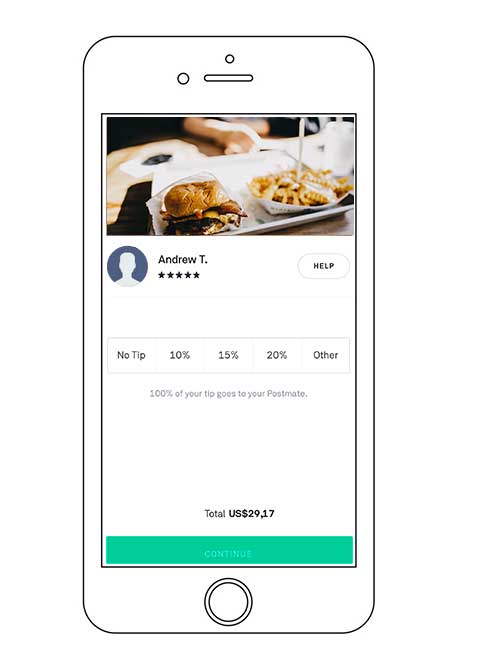 Related Article: Postmates driver pay
How Do I Cancel a Postmates Order after I passed it?
You can cancel an order made with Postmates, at any time, through Postmates app or Postmats website.
How to cancel an order from Postmates app
Tap the "Help" option from the order status page, at the bottom of the screen, a submenu with two options will appear. Click on "Cancel Order" from there and select the reason for cancelling and press continue.
How to cancel an order from Postmates website
Login in your Postmates account in the Postmates website. You need to click on the help buttom from the order status page, select cancel your order and select the reason for cancelling.
Please note that depending on when you cancel your order, you may still be charged some or all of the order cost.
#1 the Postmate (Postmates driver) hasn't arrived at the merchant yet: You can cancel the order directly through the app at no charge to you.

#2 the Postmate is on the way to pick it up: you'll pay for the items and a cancelation fee to cover the cost. Since the service was not completed, you won't pay the Delivery Fee or the Service Fee.

#3 the order is on the way to you: Postmates will need to charge you the full price for the delivery at this point which includes the items, the Delivery Fee, and the Service Fee.
Postmates Safety Review
Safety is extremely important to Postmates, obviously Postmates is a secure platform and they screen all of Postmates'candidates with thorough background check. Postmates reserves the right to disqualify a driver if their background check reveal any disqualifying offense in the last 7 years or for any other safety-related reason.
All payment transactions, including tipping, are processed automatically on your payment card through the Postmates app. This means you will never need cash on-hand. The mobile numbers shared between customers and Postmates are masked so that real phone numbers are never exposed.
Related Article:
Does Postmates Offer Free Delivery?
After dowloading Postmates app, you will receive several offers from Postmates of free delivery for some specific days or for purchases made in certain marchants. Do not forget to take your Postmates $100 code. It will gives you $100 free delivery fee credit. Our Postmates promo codes are always valid and have no expiration date.
Do not forget Postmates Unlimited $0 delivery fee on all orders over $20
Related Article: Postmates Coupons
Postmates Help Center
Do you have a question on Postmates? We have the answer 😉. Browse our website, we know Postmates... you can also send us your questions by mail. We are a helpful community of Postmate! If you prefer you can contact the Postmates Support team through the Postmates app or through the website.